Most of the men's spandex swimwear that you see on the beaches today is a direct result of a designer deciding to take a different approach to swimwear. They got tired of looking at the same old swimwear designs that have been around for decades and realized that spandex was a material that could be used to change the world. They knew instantly that people would either hate it completely or fall madly in love with it, and that was the beginning of a fashion trend that has started a revolution on the beaches of the world.
Sorry no models today just me in a tiny spandex swimsuit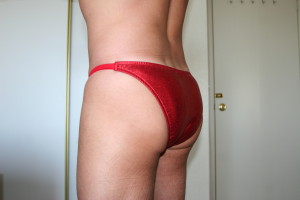 It seems like every beach you can go to you will find men wearing spandex swimwear in public. Sure, you might not see all that many at first but, if you spend enough time on any beach, you will see that more and more spandex designs are being shown off. Guys are starting to realize that this material makes the most comfortable swimwear ever imagined. But don't take my word for it. Jump online and take a look at some of the designs that are available these days. Pick something out that you normally wouldn't wear and try them on for a bit. This swimwear will prove itself to you almost immediately.
Looking for new swimwear to take on vacation can be a hassle for most guys. They never stop to think that spandex swimwear is the way to go but, instead, they will end up buying something off the rack at a retail store. That might be perfectly okay for some, but you really don't want to walk out onto the beach and look just like everyone else. So take a different approach to your swimwear, much like those early designers out there, and buy something made form spandex. You definitely won't regret your decision in changing some things up and the people on the beach will be happy to see you bringing change into their life as well.